Compact brushless DC motors now with IP66 quick-fit drive cable connector

Compact brushless DC motors now with IP66 quick-fit drive cable connector
25-10-2016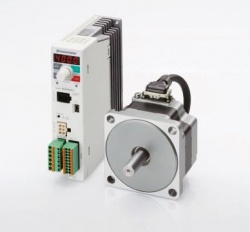 Ideal for their high performance and efficiency in a compact form factor, the brushless BMU and BLE motors from Oriental Motor can now be deployed in more demanding conditions, where dust and water ingress can be an issue, or when the costs of production delays from motor and/or driver exchange can be prohibitive.
Brushless BMU and BLE series DC motors from Oriental Motor are already used widely in the manufacture and packaging of foodstuffs and related products. Their high power output, compact size and light weight makes them the ideal choice for applications such as conveyors and belt weighers, when space is limited and energy conservation is important. Moreover, the speed and torque of each motor can be controlled across the full power range with such precision and timing that almost any duty profile can be programmed, enabling a wide range of potential applications.
These two successful motor series have now been enhanced, extending the potential application range by increasing the resistance of the motor to dust and water to IP66 level, as well as eliminating corrosion-sensitive parts from the motor-gearhead assembly.
Dust and water ingress are a frequent cause of problems in electrical connections, often leading to breakdowns. The BMU and BLE motor series each comprise a motor and corresponding programmable driver with a combined power/signal cable and motor connector. The connector at the motor is the part that is most susceptible to environmental factors. The new connector (cable and motor receptacle) have now been redesigned to include an integrated O-ring and gasket, creating a watertight and dustproof seal that is certified to comply with IP66 level of protection. Moreover, the connection can now be made and broken quickly without the use of tools, thanks to the integrated lock lever in the connector, saving maintenance time and space for tool handling. Additional dust and water protection is now available for the 30, 60 and 120 W motors of both series in the form of new optional motor covers, which are likewise IP66 compliant. This option makes the new motor line-up a very economical alternative to entirely stainless steel motors.
The elimination of corrosion sources is essential for deployment of motors and transmissions in a moist food production environment. In addition to the electrical protection measures for the motors, the gearheads of these motors are now supplied standard with a stainless steel shaft and SS attachment bolts, eliminating the risk of product contamination from corrosion and rust from the motor-gearhead combination.
More information:
BMU series
BLE2 series
More news
Request a quote
Would you like to request a quote?