PSD series of integrated 'direct drives'

PSD series of integrated 'direct drives'
07-08-2018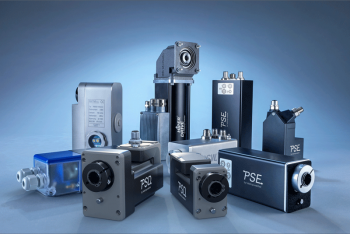 To be able to produce different size variants of the same product on a single machine, a readjustment of the machine is generally unavoidable when changing over from one format to another. Manual readjustment is relatively time-consuming, and often subject to error. Halstrup-walcher of Germany – represented in Belgium and the Netherlands by Rotero – addresses this problem with their new PSD integrated 'direct drive' series. With this innovative extension to their range of positioning and software systems, format changeovers can now be performed more efficiently and quickly.
Besides the stepper motor, the PSD series of direct drives also includes all other elements necessary for the rapid and automatic format changeover of machines. For example, the control system, bus interfaces, and an incremental or absolute measuring system. These drive solutions all feature a compact design and maximum speed of 1500 min-1. This high speed is especially beneficial for use in machines that frequently have to be changed over for the production of small batches.
Variants
These direct drives offer maximum mounting flexibility, due to the rotating device housing and the variable connector alignment, with which the drive can be integrated into any machine without needing an angle plug.
The size of the PSD positioning system depends on the selected stepper motor, which is available in flange size NEMA 17 or 23. The PSD variant with the standard solid circular shaft is mounted using the motor flange. There is also a hollow shaft option that enables the drives to be mounted directly on the spindle, avoiding the need for an extra coupling. The integrated gearbox option allows higher drive torques of up to 10 Nm to be achieved on the output shaft.
Control system
With more than two decades of experience working with format changeovers, halstrup-walcher has also developed an optimized control system for the new drives. This uses a 32 bit incremental measurement system for reliable and precise position reporting. The optional absolute measurement system (battery-less) is the ideal solution for applications that constantly need to know the exact position of the drive, as it needs no reference run or costly calibration.
The direct drives are equipped standard with CANopen and IO-Link communications protocol, while the optional bus systems include Profibus-DP, DeviceNet, Modbus RTU, Sercos, EtherCAT, Profinet, EtherNet/IP and Powerlink. The drive systems can be easily configured by means of rotary switches. A power feedback circuit protects the internal electronics from any generator effect or manual rotation.
Predictive maintenance
Lastly, the drives provide condition monitoring data to support predictive maintenance for the production machine.
More news
Request a quote
Would you like to request a quote?
Contact
| | | |
| --- | --- | --- |
| Rotero Belgium | | Rotero Holland |
| Wayenborgstraat 10 | | Pompmolenlaan 21 |
| 2800 Mechelen | | 3447 GK Woerden |
| Belgium | | The Netherlands |
| | | |
| | | |
| T: +32 (0)15 451 840 | | T: +31 (0)348 495 150 |
| E: info@rotero.be | | E: info@rotero.com |
| | | |
| VAT: BE0433082828 | | VAT: NL008174210B01 |
| | | Co.reg.:30089129 |
| | | |
| LinkedIn | | |
| | | |
| Privacy Statement | | |