Precise control of conveyor systems

Precise control of conveyor systems
28-04-2020
As official distributor for Oriental Motor in the Benelux, Rotero has recently started delivery of the new CVK driver series for the company's 5-phase PKP stepper motors. This is the perfect pairing of driver and motor for high accuracy positioning, for example in conveyor systems such as feed and discharge belts, as well as label production and application. The striking feature of this combination is its exceptionally high, load-independent positioning accuracy. And moreover, this high accuracy is unaffected by variation in the size of the conveyed products.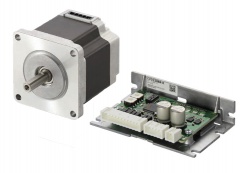 The Oriental Motor product line-up consists mainly of asynchronous motors, brushless DC motors, stepper motors, linear and rotary actuators, and fans. The company has a reputation for frequent technological innovations that create new possibilities for specific applications.
For example, the new drivers they have recently launched for the PKP series of stepper motors: these CVK drivers are easily controlled by switching a digital input. When the current is interrupted, the motor will stop precisely at a preset angular displacement from its position at that instant. Two variants are available with different mounting orientation.
Accurate positioning
The combination of CVK driver and 5-phase PKP stepper motors was specifically developed for precise control of product and label conveyor systems. The development was focused on the stopping accuracy, with a maximum error of 1°, regardless of the load.
The system is therefore not affected by any friction, inertia or stiffness in the assembly, and ensures that the product always arrives at the required stop position with high accuracy – even when conveying products with variable dimensions. The drivers provide for stepless adjustment of motor acceleration and deceleration, as well as a stationary holding torque. The maximum torque is 6 Nm – even at the lowest speeds.
PKP stepper motors
When combined with PKP high-torque stepper motors, the CVK drivers make it possible to develop applications that are almost free of vibration. The motors are available with flange sizes of 28, 42 and 60 mm, and a nominal torque of 0.091, 0.5 and 2.1 Nm respectively.
The driver-motor combination can optionally be equipped with a gearbox. Contact us by phone 0348 - 495 172 (NL) / 015 451 840 (BE) of fill in the contact form for more information.
More news
Request a quote
Would you like to request a quote?
Contact
| | | |
| --- | --- | --- |
| Rotero Belgium | | Rotero Holland |
| Wayenborgstraat 10 | | Pompmolenlaan 21 |
| 2800 Mechelen | | 3447 GK Woerden |
| Belgium | | The Netherlands |
| | | |
| | | |
| T: +32 (0)15 451 840 | | T: +31 (0)348 495 150 |
| E: info@rotero.be | | E: info@rotero.com |
| | | |
| VAT: BE0433082828 | | VAT: NL008174210B01 |
| | | Co.reg.:30089129 |
| | | |
| LinkedIn | | |
| | | |
| Privacy Statement | | |