Brushless (EC)
'Intelligent' ventilators achieve much more than conventional ventilators without resorting to sensor control. They also use less energy and are extremely environmentally friendly. Most ventilators have to rely on external sensors and outdated control systems in order to control the power and revolutions. The Rotero EC-O obtains this information from the motor itself and controls power and revolutions by means of 'intelligent' electronics.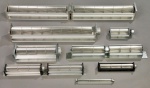 The Rotero EC-O ventilator is available in a large range of turbines: from 25 to 150 mm Ø and up to 1,000 mm long (single or double models). You can calibrate the following parameters yourself: rotation direction, soft-start, control range.
Features:
EC motor, 3-phase or single phase
closed loop adjustment
0 to 10 V or PWM input
speed control, flow control, pressure control
driver integrated or external
efficiency at ≤ 70%
control range 200 to 4000 rpm
input PWM, 0 to 10 V, RF
communication RS485/master-slave/bus
options: current limitation, thermal protection. customised solutions
Applications:
Heating, cooling, ventilation
Do you wish to know more about these products or would you like to receive a quote? Please contact our product specialist by using the contact form.
During office hours we can also be reached by phone:
Belgium:
Call: (+32) (0)15 - 451 840
The Nederlands:
Call: (+31) (0)348 - 495 173
Request a quote
Would you like to request a quote?