New: Dimetix laser sensors

New: Dimetix laser sensors
12-07-2017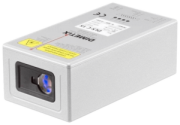 Recently we added the laser sensors of Dimetix to our assortment. Dimetix has been developing and manufacturing laser distance sensors for more than 10 years. As a company that is proud of being Swiss, they aim for the highest possible quality, resulting in unique, accurate long-distance sensors – the solution that provides applications for the most accurate demands for measurement.
The laser sensors of Dimetix measure distances of up to 500 meters with an accuracy of ±1 millimeter.
Each sensor includes the majority of features, so selection of a sensor is very easy.
Sensors are available from stock, which guarantees the shortest possible delivery times.
For more information about these sensors, please visit the product page about laser sensors.
More news
Contact us
Would you like to know more about these sensors or would you like to receive a quote, please contact our product specialist.
Belgium:
Bruno Crapé
Call: +32 (0)15 - 451 845
or send an e-mail

The Netherlands:
Ger de Haas
Call: +31 (0)348 - 495 155
or send an e-mail
Request a quote
Would you like to request a quote?