MCE electric cylinders with motor and servo drive

MCE electric cylinders with motor and servo drive
25-01-2022
Unimotion – represented in the Benelux by Rotero (Woerden, NL) – has developed a series of electric cylinders for typical applications in factory automation. Each model in the new MCE series comprises the actual cylinder, a stepper motor and a servo drive. These elements are perfectly matched to achieve high speed, excellent positioning accuracy and high repeatability: exactly the performance needed for highly-dynamic applications.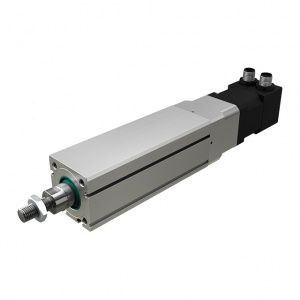 The MCE electric cylinders comprise a standard Unimotion motor, a closed loop servo drive, and of course, the cylinder itself. The STDF servo drive is easily programmed and supports dynamic positioning, while also contributing to reduced heat generation and improved torque. The motor is a standard IP65 stepper motor with built-in incremental encoder (500 cpr / 2000 ppr). An integrated brake is optional. Communication is supported over EtherCAT, Ethernet, and in the near future, Profinet.
High speed and accuracy
The high speed and positioning accuracy is achieved through the high-precision ball-screw drive with anti-rotation piston rod. With its compact dimensions and wide applicability, this combination of proven technologies is literally a "plug and drive" solution for factory automation.
Another strength of the MCE series is its flexible mounting capability, thanks to the T-slot in the underside, and the side slots for clamping fixtures and magnetic field sensors. Additional options include a female-threaded piston rod end, extended piston rod, and a range of accessories.
Which cylinder do I need?
The linear drive specialists at Rotero are always available to help you select the MCE electric cylinder for your application: the perfect combination of motor, drive, and applicable accessories. Rotero can also provide 3D models for you to upload straight into your own design.
Maintenance-free
Every MCE electric cylinder is factory pre-lubricated for maintenance-free operation. The cylinders are also suitable for relatively high payloads. Moreover, they can move larger loads both horizontally and vertically at high speeds. Cylinders with a standard stroke length can be supplied from stock.
Want to know more?
To learn more about these electric cylinders or one of our other products, simply call us at 0348 - 495 150 (NL) or 015 451 840 (BE) or enter your request in the contact form.
More news
Request a quote
Would you like to request a quote?
Contact
| | | |
| --- | --- | --- |
| Rotero Belgium | | Rotero Holland |
| Wayenborgstraat 10 | | Pompmolenlaan 21 |
| 2800 Mechelen | | 3447 GK Woerden |
| Belgium | | The Netherlands |
| | | |
| | | |
| T: +32 (0)15 451 840 | | T: +31 (0)348 495 150 |
| E: info@rotero.be | | E: info@rotero.com |
| | | |
| VAT: BE0433082828 | | VAT: NL008174210B01 |
| | | Co.reg.:30089129 |
| | | |
| LinkedIn | | |
| | | |
| Privacy Statement | | |