JVL's most compact 1200 W servo motor: the MAC1200

JVL's most compact 1200 W servo motor: the MAC1200
07-04-2020
Danish motor producer JVL – represented in the Benelux by Rotero (Woerden, NL) – has extended its MAC servo motor series with the new MAC1200. A big brother to the MAC800, the MAC1200 supplies a continuous 3.8 Nm torque at 3000 rpm and has a peak torque of 11.4 Nm. With a fully integrated power supply and driver, the new motor saves cabinet space, eliminates installation errors and reduces maintenance costs. Amazingly, JVL has managed to achieve this within the same form factor as the MAC800, making the MAC1200 the most compact model in the series.
Danish manufacturer JVL has developed and produced efficient and compact integrated servo and stepper motors for over 25 years. The product range includes the MAC series of brushless servo motors in various form factors.
Extremely high torque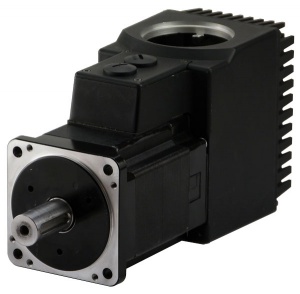 The newest variant – the MAC1200 – extends the series beyond the MAC800.
This variant offers a continuous torque of 3.8 Nm at 3000 rpm, and a peak torque of up to 11.4 Nm.
The nominal power rating is almost 1200 W.
Thanks to the extremely compact motor design incorporating rare earth magnets plus newly-developed electronics and mechanical features, JVL has managed to deliver 50% more power within the same dimensions.
This means: 84x84 flange and a length of just 204 mm.
Moreover, the motors and integrated electronics are designed to withstand the vibrations and temperatures that typify industrial operating conditions.
The motors are powered directly by 230 V mains voltage, while the control voltage for the encoder and microprocessor is 24 V. In emergency situations, when the main power supply is interrupted, this voltage ensures that the encoder position and other values are stored. Of course there is also the option of an absolute multiturn encoder that by definition retains the values, and does not require a separate power supply or backup battery.
Integrated controller
A major benefit of the MAC series is its integrated servo driver/controller. This reduces the need for cabinet space and related cabling. The integrated servo driver/controller eliminates potential installation errors and common EMC problems, and also contributes to reduced noise emissions. Moreover, the motor and electronics can be swapped out as a complete unit, reducing the time and cost of maintenance shutdowns.
Communication
For industrial Ethernet users, the functionality and implementation is identical for all supported communication protocols: Profinet, EtherNet/IP, SERCOS, EtherCAT, Powerlink and Modbus TCP/UDP. JVL's universal software MacTalk enables the protocol to be changed easily by means of a simple firmware update.
More information?
For more information, or to discuss the needs of your application, contact Rotero without obligation. Call: +31 (0)348 495 172 (NL) or +32 (0)15 451 840 (BE) or fill in the contact form.
More news
Request a quote
Would you like to request a quote?
Contact
| | | |
| --- | --- | --- |
| Rotero Belgium | | Rotero Holland |
| Wayenborgstraat 10 | | Pompmolenlaan 21 |
| 2800 Mechelen | | 3447 GK Woerden |
| Belgium | | The Netherlands |
| | | |
| | | |
| T: +32 (0)15 451 840 | | T: +31 (0)348 495 150 |
| E: info@rotero.be | | E: info@rotero.com |
| | | |
| VAT: BE0433082828 | | VAT: NL008174210B01 |
| | | Co.reg.:30089129 |
| | | |
| LinkedIn | | |
| | | |
| Privacy Statement | | |