Stepper motors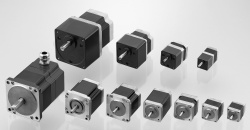 Stepper motors are often the designated solution for positioning applications. The angular warp is determined by the powered coil and the steering knows by counting where the motor is positioned. The frequency with which a subsequent coil is powered determines the speed. The electric current determines the power but does not influence the speed and position.
Stepper motors furthermore deliver very high quality coupling at low speeds. When correctly applied, they are the only motors where the speed can be adjusted from 0 rpm.
General specifications stepper motors
flange sizes: 20 mm to 85 mm
step angles: 1.8° - 0.9° - 0.72° - 0.36° (full step)
coupling up to 12 Nm
amplifiers for 24 - 160 V DC and 230 V AC
micro stepping resolution to 125,000 steps per revolution
options: gear boxes, encoder, controller
standard products, quick supply
Rotero can assist with the following types of stepper motors:
For more information on any of the products on this website, or for a price quotation, please contact our product specialist using the contact form.
Call us during office hours:
Belgium:
(+32) (0)15 - 451 840
The Netherlands:
(+31) (0)348 - 495 172
Request a quote
Would you like to request a quote?
Contact
| | | |
| --- | --- | --- |
| Rotero Belgium | | Rotero Holland |
| Wayenborgstraat 10 | | Pompmolenlaan 21 |
| 2800 Mechelen | | 3447 GK Woerden |
| Belgium | | The Netherlands |
| | | |
| | | |
| T: +32 (0)15 451 840 | | T: +31 (0)348 495 150 |
| E: info@rotero.be | | E: info@rotero.com |
| | | |
| VAT: BE0433082828 | | VAT: NL008174210B01 |
| | | Co.reg.:30089129 |
| | | |
| LinkedIn | | |
| | | |
| Privacy Statement | | |