Dependable electromagnetic actuators for demanding marine applications

Dependable electromagnetic actuators for demanding marine applications
28-05-2019
Innovative solutions from Magnet Schultz Ltd optimised for use above and below the waterline are now available from Rotero. These dependable, high-quality products provide shipbuilders, superyacht makers and offshore engineers with perfect options when it comes to functional, safety and security applications in the marine environment.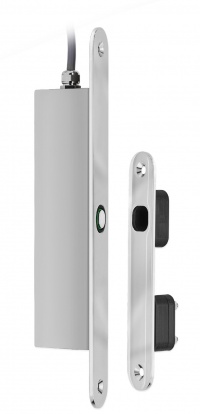 Remotely-operated locks, latches and holding devices are being used more and more for reasons of security, but also for safety and functionality in extreme environments, such as subsea.
With the increasing risk of intrusion or even piracy, both in ports and on the high seas, the ability to lockdown all hatches and doors from the bridge is today becoming essential. Remotely controlled electromagnetic shotbolts are the ideal components for this purpose, but also for more routine applications, such as the latching of stowed or deployed features and fittings. The attractive, precise and reliable stainless steel EBL-M1212 shotbolt lock from Magnet Schultz is specially developed for use as a latch in marine conditions, and is IP65-rated. [picture]
Below the waterline, operators of submersibles often need to hold or release a metallic object. A conventional electromagnet needs a continuous supply of power to hold such an object, and this can become a critical factor when you have limited battery capacity until the submersible is back on deck. The engineers at Magnet Schultz have developed innovative solenoids that need no current to hold the load, and only a brief pulse from a capacitor to enable release. These corrosive-resistant and heavy duty holding magnets are now being used by the British National Oceanography Centre on the Autosub6000, an unmanned deep-water submersible, to hold ballast weights against the hull. When the vessel has to return to the surface, the magnets are pulsed, releasing the weights.
The potential applications for electromagnetic actuators from Magnet Schultz in the maritime sector are numerous.
Documentation
Technical specifications can be found in the datasheet.
Datasheet
More information?
For more information, or to discuss the needs of your application, contact Rotero without obligation. Call: +31 (0)348 495 172 (NL) or +32 (0)15 451 840 (BE) or fill in the contact form.
More news
Request a quote
Would you like to request a quote?
Contact
| | | |
| --- | --- | --- |
| Rotero Belgium | | Rotero Holland |
| Wayenborgstraat 10 | | Pompmolenlaan 21 |
| 2800 Mechelen | | 3447 GK Woerden |
| Belgium | | The Netherlands |
| | | |
| | | |
| T: +32 (0)15 451 840 | | T: +31 (0)348 495 150 |
| E: info@rotero.be | | E: info@rotero.com |
| | | |
| VAT: BE0433082828 | | VAT: NL008174210B01 |
| | | Co.reg.:30089129 |
| | | |
| LinkedIn | | |
| | | |
| Privacy Statement | | |