Switches
The KISSLING switches can be obtained in various models. We can supply switches with one, two or four poles, a large number of types of drive, insulation IP67/IP6K and an operational temperature range of -55° C to + 130° C (special designs even up to + 300° C.). You can also order switches from us from 50 A to 500 A, which can withstand extreme shocks and vibrations and monitor the loading by means of battery. Should you be looking for a switch that is not listed below, please feel free to contact us to see what the possibilities are.
Battery switches
Complete series 35 of manually operable key switches with models for 200 A, 300 A and 500 A.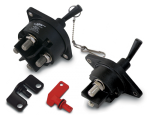 The switches are obtainable in models with single or double poles whether or not fitted with a permanent and/or removable key, painted in various colours. Models with extra auxiliary plug sockets are also possible and the series can also be supplied with "blowing magnets" for switch options up to 80 V/DC.
For more information, please go to the website of Kissling.
Emergency switches
The 24 series of emergency switches interrupt the electrical circuit immediately after manual operation of the stop button. After engaging the button the electric circuit is closed off.
In emergencies after the button has been pressed a mechanically enforced powering off/interruption of the circuit takes place. The internal switch mechanism accompanies independently the power off process. Blowing magnets are optionally obtainable for applications of 80 V/DC and more.
More information about these emergency switcheses please go to the website of Kissling.
Microswitches
8 different series of microswitches for various applications in which a high life expectancy, linked to a very high switching frequency are of a primary concern in usage. These switches satisfy the IP67 protection class for numerous applications in the machine and automotive industry.

There are also models with mechanically enforced connections that are used in medical appliances.
Visit the website of Kissling for more information or contact us.
Tumble switches (07, 08, 09 serie)
3 series of tumble switches for all kinds of applications. There are numerous variations of options for switches, connections, types for heavy duty loading and locking options. These series are applied in all branches of the industry both in commercial and also space flight and military applications.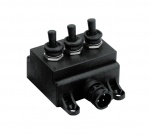 The various models are also built into closed housings such as start-stop combinations in buses. The extensive selection of switches allows for the realisation of almost every application.
There is also an 07 series of sealed rocker switches, with the switch supplied in various colours.
More information about these tumble switches can be found on the website of Kissling.
Do you wish to know more about these products or would you like to receive a quote? Please contact our product specialist by using the contact form.
During office hours we can also be reached by phone:
Belgium:
(+32) (0)15 - 451 840
The Netherlands:
(+31) (0)348 - 495 172
Request a quote
Would you like to request a quote?
Contact
| | | |
| --- | --- | --- |
| Rotero Belgium | | Rotero Holland |
| Wayenborgstraat 10 | | Pompmolenlaan 21 |
| 2800 Mechelen | | 3447 GK Woerden |
| Belgium | | The Netherlands |
| | | |
| | | |
| T: +32 (0)15 451 840 | | T: +31 (0)348 495 150 |
| E: info@rotero.be | | E: info@rotero.com |
| | | |
| VAT: BE0433082828 | | VAT: NL008174210B01 |
| | | Co.reg.:30089129 |
| | | |
| LinkedIn | | |
| | | |
| Privacy Statement | | |