Electric heaters and elements

Electric heaters and elements
Electric heaters and elements are used extensively by industry for applications such as climate control in control cabinets or trains, industrial ovens, the heating of plastics, food products, oil, shrink films and packaging materials, but also in the medical sector. It is vitally important that these heaters have a high reliability, for maximum reliability, efficiency and safety of the production process they support.
Rotero has incorporated the following Tempco heating solutions into its product range:
Cartridge heaters in high and low Watt densities can be installed in drilled holes – e.g. to heat dies or moulds - or they can be used as immersion heaters for liquids.
Band heaters are mostly used to heat cylindrical surfaces, and are available in several variants for use in different operating conditions.
Flexible heaters are the preferred heating solution when space is limited and weight is a concern.
Strip heaters often serve as the main heat source in industrial ovens, and are also used to heat air and other gases.


Cartridge heaters
The Tempco heater product range includes cartridge heaters in both high and low Watt density variants. These cylindrical heaters have an internal heating coil, and are specifically designed for installation in (cylindrical) drilled cavities. For example, in metal tanks, or in dies or moulds. They can also be used as immersion heaters for liquids.
Features:
Lead wires with high-temperature insulation
Certified to max. 600 V and 250°C
Ceramic end cap protects internal parts from external contamination
Nickel-chrome heating coil
304 stainless steel sheath; high mechanical strength and corrosion resistance
The core and annulus are filled with compacted magnesium oxide for a long heater life, excellent heat transfer and high dielectric strength.
For more information:
Band heaters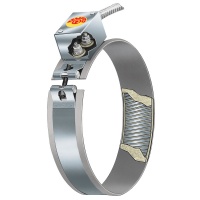 The band heater range from Tempco comprises annular heating units that are used mainly to heat cylindrical surfaces. Typical application areas are extruders, injection moulding machines, vending machines that dispense hot products, fluidized bed reactors, and autoclaves.
Features:
Range of variants to suit different operating conditions (temperature, contamination, etc.)
Mi-Plus variant for high Watt densities and operating temperatures
Duraband (Micaband) variant for temperatures up to 480°C
Generally cylindrical, but conical, hexagonal and square variants also available
Maximum strength, conductivity and efficiency
Easy to install
Optional control system
For more information:
Flexible heaters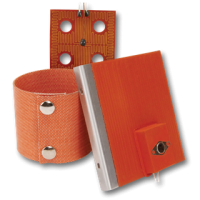 As the name suggests, Tempco flexible heaters are a pliable heat source that can be precisely wrapped around the object that is to be heated. Moreover, most of these heaters are thin and lightweight, and they therefore offer an ideal solution when the installation space is limited, and weight is a concern.
The silicone rubber heaters - flexible mats - can optionally be ordered with PSA (Pressure Sensitive Adhesive): a layer of adhesive that grips securely when pressure is applied. This enables the mats to be applied even to rounded surfaces.
Features:
Wide range of variants, such as tape, silicone sheet (moisture and chemical resistant), and Kapton heaters.
Choice of temperature ratings
Lightweight
Flexible installation
Suitable for use in extreme conditions
For more information:
Flexible silicone and Kapton heaters
Strip heaters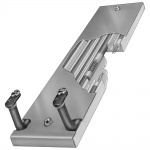 Tempco strip heaters are used for many purposes, including tank surface heating, as the main heat source in industrial ovens, or to heat air and other inert gases.
These heaters are offered in different variants for clean or contaminated conditions, and maximum jacket temperature ratings of 343°C or 650°C.
Features:
Suitable for diverse industrial applications, such as: drying, melting, thermoforming, sealing, heating of gases, food products, dies, ovens and incubators.
Available in different temperature ratings
Easy to install
With or without fins
High-quality materials
For more information:
Do you wish to know more about these products or would you like to receive a quote? Please contact our product specialist by using the contact form.
During office hours we can also be reached by phone:
Belgium:
(+32) (0)15 - 451 840
The Netherlands:
(+31) (0)348 - 495 172
Request a quote
Would you like to request a quote?
Contact
| | | |
| --- | --- | --- |
| Rotero Belgium | | Rotero Holland |
| Wayenborgstraat 10 | | Pompmolenlaan 21 |
| 2800 Mechelen | | 3447 GK Woerden |
| Belgium | | The Netherlands |
| | | |
| | | |
| T: +32 (0)15 451 840 | | T: +31 (0)348 495 150 |
| E: info@rotero.be | | E: info@rotero.com |
| | | |
| VAT: BE0433082828 | | VAT: NL008174210B01 |
| | | Co.reg.:30089129 |
| | | |
| LinkedIn | | |
| | | |
| Privacy Statement | | |