Kissling ES series 'E-STOP' emergency stop switches

Kissling ES series 'E-STOP' emergency stop switches
06-12-2019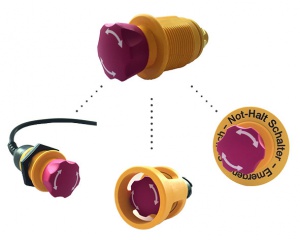 The emergency stop switches from Kissling of Germany form an important part of the extensive product range offered by Rotero (Woerden,NL). The latest addition is the ES series, which includes emergency stop switches that feature high resistance to shock, vibration, moisture and dust. These components have been specially developed for industrial and vehicle-mounted applications, such as on off-road and mobile machines. These E-stop switches are available in both single and dual pole variants.
When it comes to industrial safety, E-stop switches are an essential component of virtually every machine or installation. German manufacturer Kissling – a specialist in switching solutions – puts it like this: E-stop, Emergency Stop or Emergency Switch, whatever call it, it needs to be rugged, durable and absolutely dependable. Because even under the most extreme conditions, when you need it, it absolutely must work.
Protection class IP6K9K
Kissling emergency stop switches are therefore developed and manufactured according to the highest quality standards. Moreover, with requirements for safety components becoming increasingly stringent, Kissling keeps pace by introducing new and improved products, such as the new ES series of emergency stop switches: a range of E-stop switches specially designed for industrial applications, but also highly suitable for use on commercial, mobile and off-road vehicles. To ensure reliable switching in any situation, the switches have a ruggedised body that is resistant to shock and vibration.
The combination of design and applied materials (PA 25 GF RAL1003, UL 94 V0) encloses the electrical contacts within a compact housing that eliminates any risk of dust or moisture ingress. Depending on the variant, a protection class of IP67 or IP6K9 can be achieved with an additional special seal, and the E-stop button then needs no further shielding from environmental factors.
Specifications
The emergency stop switch can be applied as a plug & play component that is also ideal for use in hazardous environments. Reliable operation is assured over an extremely wide ambient temperature range of -40 to +85°C. The switching function can be chosen from 2 NC + 1 NO, 3 NC, or 2 changeover contacts. Available connection options include bayonet, Faston, or cable connection.
The switches weigh approximately 75 grams, require a switching force of 20 - 50 N and a reset torque of 3 Nm. Lastly, the components are short-circuit-proof as per EN 60947-5-1, and have a service life of at least 40,000 operations.
More information?
For more information, or to discuss the needs of your application, contact Rotero without obligation. Call: +31 (0)348 495 172 (NL) or +32 (0)15 451 840 (BE) or fill in the contact form.
More news
Request a quote
Would you like to request a quote?