Acceleration sensors
These accelerometers from DIS sensors measure acceleration on 1, 2 or 3 axes. These acceleration sensors are based on robust MEM technology, in which capacity differences are converted to analogue voltage within a micro-mechanical sensor chip. This analogue voltage is proportional to the acceleration to which the sensor is exposed.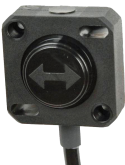 Roughly, the DIS Sensors accelerometers can be supplied with the following specifications:
parameters from ±0,26 g to ±16 g (1 g = 9,81 m/s²)
frequency limits from 0 to 20 Hz to 0 to 1,000 Hz
5 V DC or 10 to 30 V DC
0.5 to 4.5 V or 4 to 20 mA
CANopen
accurate to a maximum of 0.003 g (depending on the model and the range)
synthetic, aluminium or RVS housing
The modular design of the DIS Sensors accelerometers enables simple adaptation of the sensors to specific requirements. Various accessories are also available for the DIS Sensors acceleration registration instruments such as cables and connectors.
Applications
Accelerometers are used for various applications, such as: active vibration silencers, vibration measurements, transport monitoring, monitoring of maximum vibration in wind turbines.

Accessoires
We also supply various accessories for your sensor, to allow the acceleraton sensors to operate to an optimum. For more information on these accessories, please visit the website of DIS Sensors.
Product selector
On the DIS Sensors website you will find a product selector. With this tool you can easily find the correct inclinometer for your specific circumstances. Should you not be able to find a suitable sensor please contact us. Together with you we can try and find a sensor and/or have one developed that satisfies your particular requirements and demands.
Do you wish to know more about these products or would you like to receive a quote? Please contact our product specialist by using the contact form.
During office hours we can also be reached by phone:
Belgium:
(+32) (0)15 - 451 840
The Netherlands:
(+31) (0)348 - 495 172
Request a quote
Would you like to request a quote?
Contact
| | | |
| --- | --- | --- |
| Rotero Belgium | | Rotero Holland |
| Wayenborgstraat 10 | | Pompmolenlaan 21 |
| 2800 Mechelen | | 3447 GK Woerden |
| Belgium | | The Netherlands |
| | | |
| | | |
| T: +32 (0)15 451 840 | | T: +31 (0)348 495 150 |
| E: info@rotero.be | | E: info@rotero.com |
| | | |
| VAT: BE0433082828 | | VAT: NL008174210B01 |
| | | Co.reg.:30089129 |
| | | |
| LinkedIn | | |
| | | |
| Privacy Statement | | |