Battery relays
High power systems battery relays 50A-1000A
The 26 series Kissling battery relays have been developed to satisfy the most stringent requirements. The series has been developed for extreme loads from 50 A to 1,000 A of continuous switch power.
This series of relays are mostly used for military applications. These power relays are resistant to very extreme shock and vibration tests. Typical are both the high contact pressure in relation to a very low drop in voltage, together with a double coil system with an optimised magnetic circuit.
Most models are designed for 12 and 24 V/DC in continuous use. IP67 and IP6K9K provide also for using the relays outside the battery casing.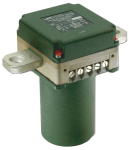 Characteristics:
double coil system with switch and retaining coil (requires 50% less power in relation to conventional systems)
usable from -55° C to +85° C
perpendicular adapters for battery connections
special aviation models are available.
options: models with protection against pole-switching, free-wheeling diode, exchangeable diode bridge and/or auxiliary connections
Bistable battery relays with integrated control electronics
By using a double coil system for setting and/or resetting, the 30 series relay uses no power after being switched on. Various detection circuits can be integrated to protect automatically peaks in the strength of voltage or current.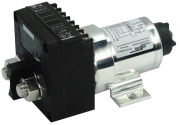 Charasterics:
automatic powering off when current is overloaded
powering on and off of the relay by means of a control input
elimination of peaks in current
powering off of a relay when the voltage level is too low
insulation of the relay in accordance with IEC 60529 and DIN 40050-9 (IP67 and IP7K9K)
available for loads between 200 and 300 A
Applications: aerospace, defence, haulage, railways, construction plant and lifting vehicles. These relays are available for loads between 200 and 300 A.
For more information please visit the website of Kissling or contact us.
ADR master battery switch
Concerning the Law on the transport of dangerous substances (WVGS) special ADR housings for bistable relays have been made available in accordance with European legislation ADR 2003. In emergencies the electrical system can be powered off or on from the cabin or from outside the vehicle (external switch). The on/off function consists of the internal bistable relay.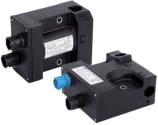 The housing installed directly behind the battery monitors the main circuit by means of the installed control.

Applicable in zone 1 and zone 2 applications in accordance with ADR 2003.
Approval: design TUV Sud TU.EGG, 086-04. ADR 2003 9.2.2.3
Please visit the website of Kissling for more information or contact us.
Do you wish to know more about these products or would you like to receive a quote? Please contact our product specialist by using the contact form.
During office hours we can also be reached by phone:
Belgium:
(+32) (0)15 - 451 840
The Netherlands:
(+31) (0)348 - 495 172
Request a quote
Would you like to request a quote?
Contact
| | | |
| --- | --- | --- |
| Rotero Belgium | | Rotero Holland |
| Wayenborgstraat 10 | | Pompmolenlaan 21 |
| 2800 Mechelen | | 3447 GK Woerden |
| Belgium | | The Netherlands |
| | | |
| | | |
| T: +32 (0)15 451 840 | | T: +31 (0)348 495 150 |
| E: info@rotero.be | | E: info@rotero.com |
| | | |
| VAT: BE0433082828 | | VAT: NL008174210B01 |
| | | Co.reg.:30089129 |
| | | |
| LinkedIn | | |
| | | |
| Privacy Statement | | |