Waterproof MAC400 integrated servo motor for demanding environments

Waterproof MAC400 integrated servo motor for demanding environments
19-05-2016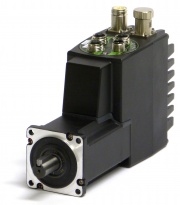 Rotero provides solutions for almost every imaginable drive application. The prime mover in these solutions is very often a product from JVL: a global leader in the field of compact and efficient integrated motors suitable for AC or DC power.
Specifically for use in severe environments, JVL has developed the MAC400 integrated servo motor with protection class IP66. This new waterproof motor extends the existing range with a versatile product that is suitable for use in the chemical, medical and food industries.
Waterproof
One of this innovative company's newest developments is the MAC400: a servo motor with a 400W power rating and IP66 protection class. In other words, a waterproof variant that is ideal for wet duty such as in the food industry, but which is also suitable for applications in demanding environments such as those in the chemical or medical industries.
The superior water resistance of the MAC400 is the result of a special watertight seal on the drive shaft bearing, created by means of a special Teflon Rulon bush. The extremely low friction of this bush eliminates the need for lubrication. The flange and shaft are made from stainless steel.
Variants
These water-resistant servo motors can be combined with a choice of interface modules to enable control via +/- 10V, pulse-direction, CAN, DeviceNet, Profibus, Ethernet / IP, EtherCAT, Modbus TCP, Powerlink or Profinet, depending on the needs of the application.
The 400W motors are typified by ease of installation and configuration, compact design and great reliability, plus of course, exceptional water resistance. These features make the MAC400 series a highly popular choice for process engineers.
Gear transmissions
In addition, JVL also supplies a wide range of stainless steel high-precision planetary gearboxes, likewise suitable for use in harsh and demanding environments. Moreover, the MAC400 variant with built-in power supply is UL certified
More news
Request a quote
Would you like to request a quote?