Unique double-pole power relay from Kissling

Unique double-pole power relay from Kissling
22-08-2016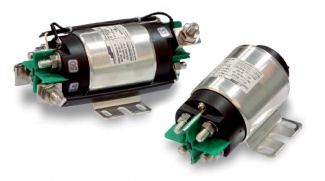 The Kissling 29 series of relays is now extended with a double-pole variant. This type can save both costs and time, as for certain applications it enables the use of a single relay instead of two. The new variant was originally developed for agricultural equipment, and has now been included in the standard range. Tested and proven in the most demanding operating conditions.
The German firm of Kissling has decades of experience in the development and manufacture of relays compliant with protection classes IP67 and IP6K9K (6K = dustproof, 9K = resistant to high pressure and steam). Moreover, the 26 series was designed for applications that have the most stringent demands. Typical application areas are defence and aerospace, but also in heavy transport and construction equipment.
New double-pole variant
The 29 series has recently been extended with a double-pole variant that was originally developed for agricultural machinery. Given its excellent performance and reliability, it was decided to incorporate this component among the standard line-up of the 29 series, making it available for all industrial and automotive applications.
More compact and economical
The double-pole variant offers machine builders the benefit of being able to use a single relay in situations where two separate relays would typically be specified. This means a more compact design is possible, reducing production costs (investment in components and warehouse costs, plus assembly time, including wiring), and easing the maintenance demands on the end user.
General benefits
Like the other relays in the 29 series, the double-pole variant features extremely short switching times plus the use of 'real' contacts. Unlike sliding contacts with a relatively high risk of arcing, these contacts are plated with a special layer (AgSnO: silver-tin alloy) that enhances the electrical properties, and above all, extends contact lifetime.
With optimized solenoid circuitry and a smart design this component offers engineers a high resistance to shock and vibration loads, and minimal contact voltage drop, thanks to the high contact pressure. Moreover, these relays have a compact design, a low holding current, and the insulation used is thermally extremely stable. The terminals and housing are protected against corrosion.
Technical specifications
Nominal current: 2 x 300 A
Rated voltage: 12, 24 and 28 V DC
Mechanical life: two million switch cycles
Mounting: Arbitrary (various mounting options and flange types available).
Operate time: max 60 ms
Release time: max 30 ms
Ambient temperature: -40 to +85°C
Protection class: IEC 60529 and DIN 40050-9, IP67 (0.2 bar; 1 min) and IP6K9K
Resistant to: oils, fuels, hydraulic fluids, alcohol and extinguishing agents
More information?
Would you like more information about these products? Contact us directly using the contact form, or call: +31 (0)348 495 174 (NL) of +32 (0)15 451 840 (BE). We would be pleased to help you to find the best solution!
More news
Request a quote
Would you like to request a quote?