Very accurate measurements with laser distance sensors from Dimetix

Very accurate measurements with laser distance sensors from Dimetix
19-11-2018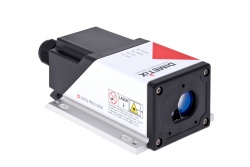 Accurate, rugged, flexible and fast: just a few of the many features defining the high quality of the new D series laser distance sensors from Dimetix. These sensors are accurate to ±1 mm with a reproducibility of 0.3 mm. There are various models to choose from, with measuring ranges to natural object surfaces of from 0.5 to 150 m, and extending to as far as 500 m when aimed at reflective foil. Considerable distances; and yet measured with such precision, due to sampling rates of up to 250 Hz, and an output rate as high as 1 kHz.
Moreover, thanks to the continuous drive for innovation and quality, the new D-series from this Swiss company is eminently suitable for use in extreme conditions, for example applications in arctic temperatures as low as -40°C, or on the other hand, at desert higher temperatures of up to +60°C. The metal housing with protection class IP65 is another feature that contributes to the wide operating range. The IP65 sensors can even be used to measure distance to dark surfaces - even in an outdoor application where the sensors have to cope with solar radiation.
The distance sensors are equipped standard with a ProfiNet Interface for data reporting. Profibus, EtherNet/IP and EtherCAT are optionally available by means of external interface cards. Every sensor is equipped standard with a digital input port, a high-precision analog output (0.1%), and a serial interface. Furthermore, the D series sensors have two programmable digital outputs plus a separate digital output for error detection.
More information
Would you like more information about these laser sensors? Contact us directly using the contact form, or call: +31 (0)348 495 150 (NL). We would be pleased to help you find the best solution!
More news
Request a quote
Would you like to request a quote?