Accessories
We supply various accessories for switch panels. On this page you will find a clear overview on where these accessories are located within a switch panel.
Orientable fan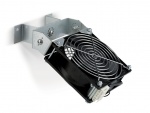 Fan with adjustable brackets for a better air distribution inside enclosures.
Documentation:
Data sheet
Brochure fan filters
Thermostat
Features: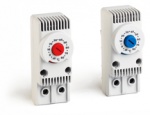 can be supplied with normally open, normally closed and switch contact
hygrostats
suitable for assembly on 3 types of DIN-rail
accuracy to 3 kelvin
to 10 A
suitable for 12-60 V/DC and 110-250 V/AC
Double thermostat
Features:

suitable to control cabinet heating and a cabinet ventilator simultaneously
can be supplied in 3 models: NO-NC, NO-NO and NC-NC
suitable for assembly on DIN rails of 35 mm. x 7.5 mm, conforming to EN 50 022
accuracy to 3 kelvin
Cabinet heating
Features: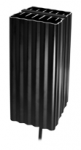 anti-condensation heating for electrical cabinets
to 400 watt
with terminal or cord connection
250 & 400 watt model fitted with integrated ventilator
Now also available: touch-secure H series cabinet heating with synthetic hood.
Thermoelectric cooling units
These thermoelectric cooling units operate by means of a Peltier element, transferring heat from one side to the other. A Peltier element therefore always has a warm and a cold side. The units are static, maintenance free and contain no coolant.
Cabinet lighting
Wide range of cabinet lighting with traditional fluorescent tubes and led lights.

Led-lamp

Energy efficient lamp with 40 in-built led lights. Due to its slim design this lamp is ideal for applications in restricted spaces.
The 5 watt lamp, with a voltage of 115/230 V AC or with multi-voltage, is supplied as standard with a screw fitting, but be fitted optionally with magnets and therefore easily used as a hand held light.
Ventilation trays
Specifications:
IP20 (in accordance with EN 60529 norm)
standard model in RAL 7035
operates at temperatures between -40° C and 70° C

Suppliable in 115 V and 230 V
Datasheets:
T-series (metal housing)
TP-serie (plastic/aluminum housing) - available in IP24, IP44, IP54 and IP55
Do you wish to know more about these products or would you like to receive a quote? Please contact our product specialist by using the contact form.
During office hours we can also be reached by phone:
Belgium:
(+32) (0)15 - 451 840
The Netherlands:
(+31) (0)348 - 495 172
Request a quote
Would you like to request a quote?
Contact
| | | |
| --- | --- | --- |
| Rotero Belgium | | Rotero Holland |
| Wayenborgstraat 10 | | Pompmolenlaan 21 |
| 2800 Mechelen | | 3447 GK Woerden |
| Belgium | | The Netherlands |
| | | |
| | | |
| T: +32 (0)15 451 840 | | T: +31 (0)348 495 150 |
| E: info@rotero.be | | E: info@rotero.com |
| | | |
| VAT: BE0433082828 | | VAT: NL008174210B01 |
| | | Co.reg.:30089129 |
| | | |
| LinkedIn | | |
| | | |
| Privacy Statement | | |