Accessories
We supply various accessories for switch panels. On this page you will find a clear overview on where these accessories are located within a switch panel.
Orientable fan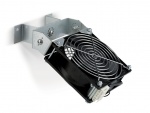 Fan with adjustable brackets for a better air distribution inside enclosures.
Documentation:
Data sheet
Thermostat
Features: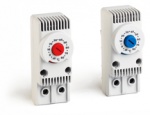 can be supplied with normally open, normally closed and switch contact
hygrostats
suitable for assembly on 3 types of DIN-rail
accuracy to 3 kelvin
to 10 A
suitable for 12-60 V/DC and 110-250 V/AC
Double thermostat
Features:

suitable to control cabinet heating and a cabinet ventilator simultaneously
can be supplied in 3 models: NO-NC, NO-NO and NC-NC
suitable for assembly on DIN rails of 35 mm. x 7.5 mm, conforming to EN 50 022
accuracy to 3 kelvin
Cabinet heating
Features: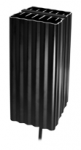 anti-condensation heating for electrical cabinets
to 400 watt
with terminal or cord connection
250 & 400 watt model fitted with integrated ventilator
Now also available: touch-secure H series cabinet heating with synthetic hood.
Thermoelectric cooling units
These thermoelectric cooling units operate by means of a Peltier element, transferring heat from one side to the other. A Peltier element therefore always has a warm and a cold side. The units are static, maintenance free and contain no coolant.
Cabinet lighting
Wide range of cabinet lighting with traditional fluorescent tubes and led lights.

Led-lamp

Energy efficient lamp with 40 in-built led lights. Due to its slim design this lamp is ideal for applications in restricted spaces.
The 5 watt lamp, with a voltage of 115/230 V AC or with multi-voltage, is supplied as standard with a screw fitting, but be fitted optionally with magnets and therefore easily used as a hand held light.
Ventilation trays
Specifications:
IP20 (in accordance with EN 60529 norm)
standard model in RAL 7035
operates at temperatures between -40° C and 70° C
Pressure compensation elements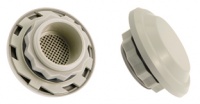 By the use of the Fandis IP55 element for pressure compensation, changes in the air pressure in the switch box are prevented and penetration by dust and moisture are avoided. The element is easy to install, also retrospectively.
Documentation:
Datasheet
Signal towers
Long lifespan due to the maintenance free LED, vibration-proofing and lower energy consumption.
Characteristics
elements are available in the colours: red, orange, yellow, green, blue and white (in accordance with EN 60073 norm)
IP64 protection level in accordance with EN 60529 norm (if correctly assembled with cap and gaskets) - IP54 when acoustic element is added
meets regulations: EN 60204-1/EN 60947.5.1/EN 60073/EN 60529/EN 60068-2-6/EN60068 - 2-27/EN ISO 7731/EN 981/IEC 536
voltage: maximum 250 V
protection against electric shock according to IEC 536 standard
temperature: between -20° C en 50° C (for 12 heating - 40° C)
Roof exhaust units
Suppliable in 115 V and 230 V
Datasheets:
T-series (metal housing)
TP-serie (plastic/aluminum housing) - available in IP24, IP44, IP54 and IP55
Do you wish to know more about these products or would you like to receive a quote? Please contact our product specialist by using the contact form.
During office hours we can also be reached by phone:
Belgium:
Call: (+32) (0)15 - 451 840
The Nederlands:
Call: (+31) (0)348 - 495 173
Request a quote
Would you like to request a quote?