New generation NEMA23 integrated stepper motors from JVL

New generation NEMA23 integrated stepper motors from JVL
19-12-2016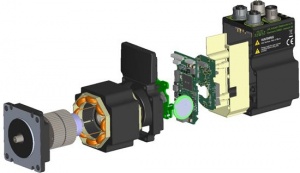 Rotero announces first availability of JVL's MIS23 series of integrated stepper motors with NEMA23 mounting faces. What distinguishes this new generation is the great choice of variants and options that bring the perfect solution within reach for virtually every application. Moreover, all necessary connectivity and control options are fully integrated within the housing, while the microstepping resolution of these new motors is an ultra-high 409600 steps per revolution.
The high-precision NEMA23 stepper motors of JVL's new generation MIS23 series are ideal for a wide range of applications. Although the new motor family incorporates the latest technology, it also represents ongoing development based on feedback from customers of the previous, highly successful generation.
Communication and control
For compact installation and low maintenance, JVL has integrated the programmable motion controller and its connectivity features within the motor housing.
In conformance with the principles of the Industry 4.0 ("Smart Factory") concept, the motors offer various control interfaces. This makes them easy to integrate into existing systems, with many local and system connectivity options, including RS485, CANopen, and industrial Ethernet. Supported network protocols include Profinet, EtherCAT, Powerlink, Modbus TCP/IP and Sercos III. Bluetooth, ZigBee or WLAN modules are also optionally available for wireless connectivity to existing systems (supplied separately as type no. SMC66).
Depending on the configuration, the motors offer extremely an fine microstepping resolution of up to 409600 steps/revolution. The result is unsurpassed smooth and silent running. Moreover, because these motors are capable of 'true' closed-loop mode, perfect torque control is now one of the possibilities.
Variants
The MIS23-NEMA23 motors are offered in three different sizes and two different motor types: three with a standard high torque stepper motor and two with ultra-high torque stepper motors that deliver 40% more torque. The torque outputs range from 1.1 to 2.5 Nm.
These new motors can run standalone or under control from a PLC or PC. The eight I/O channels of the built-in PLC can be individually configured as digital input or output, or as analog input. All units have a standard capability to communicate with higher-level systems via Modbus RTU, CANopen, or other protocols. The integrated standard support for JVL MAC protocol also makes it easy to create an RS485 network of up to 255 JVL integrated motors.
Technical specifications
Closedl oop operation
Absolute multi-turn encoder
Safe Torque Off input
Double shaft
Speed of 0-3000 rpm in 0.01 rpm steps
Electromagnetic holding brake
Protection class up to IP65
More news
Request a quote
Would you like to request a quote?