Gearboxes
Practically all motors we supply can be combined with gearboxes. We offer the following options: 
straight boxes in combination with small AC and DC motors
planetary gearboxes: slack-absorption rod and a wide assortment (also in RVS) (Apex Dynamics)
hypocycloid: free of slack and with in-built bearings (Spinea) 
Gear boxes by Apex Dynamics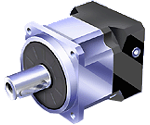 We offer an extensive range of gear boxes by Apex Dynamics. These gearboxes can be fitted to practically all (servo) motors and are geometrically exchangeable with gearboxes made by other companies.
The range consists of:
straight planetary gearboxes (economy), size: 50 to 155; torque (nominally) 16 - 308 Nm, ≤ 8 ~ 10 arcmin
straight planetary gearboxes, 14 – 2,000 Nm, play of ≤ 3 arcmin / ≤ 5 arcmin / ≤ 7 arcmin
perpendicular bevel gear gearboxes in RVS or coated steel, torque 25 – 3,200 Nm, play of ≤ 6 arcmin
perpendicular hypoid (spiral bevel) gearboxes 18 -1,600 Nm, play of ≤ 3 arcmin 
Gearbox with hypocycloid cog wheels 


Specifications:
diameters 63 to 300 mm
transmissions: 35 to 191 in one step
coupling: 37 to 7,350 Nm
absolutely free of play through its hypocycloid cog wheels
integrated bearing for greater radial and tilt loads
More information:
Please visit the website of Spinea for a complete overview of
all Spinea documents
. 
For more information on any of the products on this website, or for a price quotation, please contact our product specialist using the contact form.
Call us during office hours:
Belgium:
(+32) (0)15 - 451 840
The Netherlands:
(+31) (0)348 - 495 172
Request a quote
Would you like to request a quote?
Contact
| | | |
| --- | --- | --- |
| Rotero Belgium | | Rotero Holland |
| Wayenborgstraat 10 | | Pompmolenlaan 21 |
| 2800 Mechelen | | 3447 GK Woerden |
| Belgium | | The Netherlands |
| | | |
| | | |
| T: +32 (0)15 451 840 | | T: +31 (0)348 495 150 |
| E: info@rotero.be | | E: info@rotero.com |
| | | |
| VAT: BE0433082828 | | VAT: NL008174210B01 |
| | | Co.reg.:30089129 |
| | | |
| LinkedIn | | |
| | | |
| Privacy Statement | | |