Inclinometers
The DIS Sensors inclinometers measure inclinations along 1 or 2 axes and are based on robust MEMS technology. Theses sensors are used in situations in which accurate determination of positions and/or constant monitoring of the angle in relation to gravity is necessary. The angle in relation to a horizontal position is measured, with the imaginary line to the centre of the Earth serving as reference.
The modular design of the DIS Sensors inclination sensors enables simple adaptation of the sensors to specific requirements.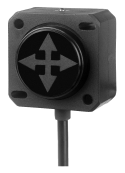 Features:
bandwidth of 10 Hz (can be reduced further)
parameters: ±10°; ±30°; ±90°; 0 to 360° (2 axes)
5 V/DC or 10 to 30 V/DC
0.5 to 4.5 V or 4 to 20 mA
accurate to a maximum of 0.02°
IP67
We also supply various accessories for your sensor, to allow the inclination sensors to operate to an optimum. For more information on these accessories, you best contact our product specialist, Ger de Haas.
Applications inclinometers
Inclinometers are used for various applications, such as: spirit level sensor to measure for the angle of inclination of a construction crane or forklift truck, agricultural machinary, shipping (measuring pitching and rolling), levelling platforms, monitoring of the angle of articulated dilators for concrete pumps and weighing applications (under an angle) etc.
Product selector
On the DIS Sensors website you will find a product selector. With this tool you can easily find the correct inclinometer for your specific circumstances. Should you not be able to find a suitable sensor please contact us. Together with you we can try and find a sensor and/or have one developed that satisfies your particular requirements and demands.
Do you wish to know more about these products or would you like to receive a quote? Please contact our product specialist by using the contact form.
During office hours we can also be reached by phone:
Belgium:
(+32) (0)15 - 451 840
The Netherlands:
(+31) (0)348 - 495 172
Request a quote
Would you like to request a quote?
Contact
| | | |
| --- | --- | --- |
| Rotero Belgium | | Rotero Holland |
| Wayenborgstraat 10 | | Pompmolenlaan 21 |
| 2800 Mechelen | | 3447 GK Woerden |
| Belgium | | The Netherlands |
| | | |
| | | |
| T: +32 (0)15 451 840 | | T: +31 (0)348 495 150 |
| E: info@rotero.be | | E: info@rotero.com |
| | | |
| VAT: BE0433082828 | | VAT: NL008174210B01 |
| | | Co.reg.:30089129 |
| | | |
| LinkedIn | | |
| | | |
| Privacy Statement | | |