Mini-crane with unique safety sensors
21-07-2021
For fifteen years, Gert van Hoef – Hoeflon's founder and owner – has focused on developing the perfect 'compact crane'. Small enough to pass through a standard doorway, these tiny cranes can lift a load of up to 9,000 kg! Rotero supplies unique safety sensors for these machines. Each sensor has a unique NodeID plus marking to ensure it gets mounted at the correct position on the crane. Five crane models are currently on the market, and Hoeflon aims to double production by the end of 2022.
With its electrically powered compact cranes – also known as 'mini-cranes' – Hoeflon has carved out a niche in a global market. There are five models in the range, four of which fit through a regular door opening. The largest model can pass through a double door. Despite their compact dimensions, these cranes can hoist up to 9,000 kg to heights as high as 22 metres. Export manager David Fokker: 'These cranes are designed for a wide variety of uses, both indoor and outdoor, such as staircase fitting, façades, and construction in steel, concrete or timber. But also, for
renovations and relocation of industrial plant.'
Read the whole case here.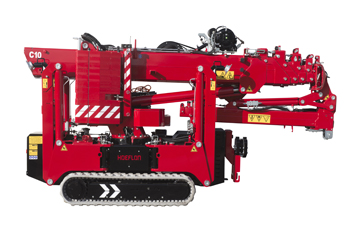 Request a quote
Would you like to request a quote?
Contact
| | | |
| --- | --- | --- |
| Rotero Belgium | | Rotero Holland |
| Wayenborgstraat 10 | | Pompmolenlaan 21 |
| 2800 Mechelen | | 3447 GK Woerden |
| Belgium | | The Netherlands |
| | | |
| | | |
| T: +32 (0)15 451 840 | | T: +31 (0)348 495 150 |
| E: info@rotero.be | | E: info@rotero.com |
| | | |
| VAT: BE0433082828 | | VAT: NL008174210B01 |
| | | Co.reg.:30089129 |
| | | |
| LinkedIn | | |
| | | |
| Privacy Statement | | |